DC Audio - DC Shortie 10" Subwoofer
PRODUCT INFORMATION
Price:
Sale price
$229.99
Unit price
per
Sale
Sold out
View full details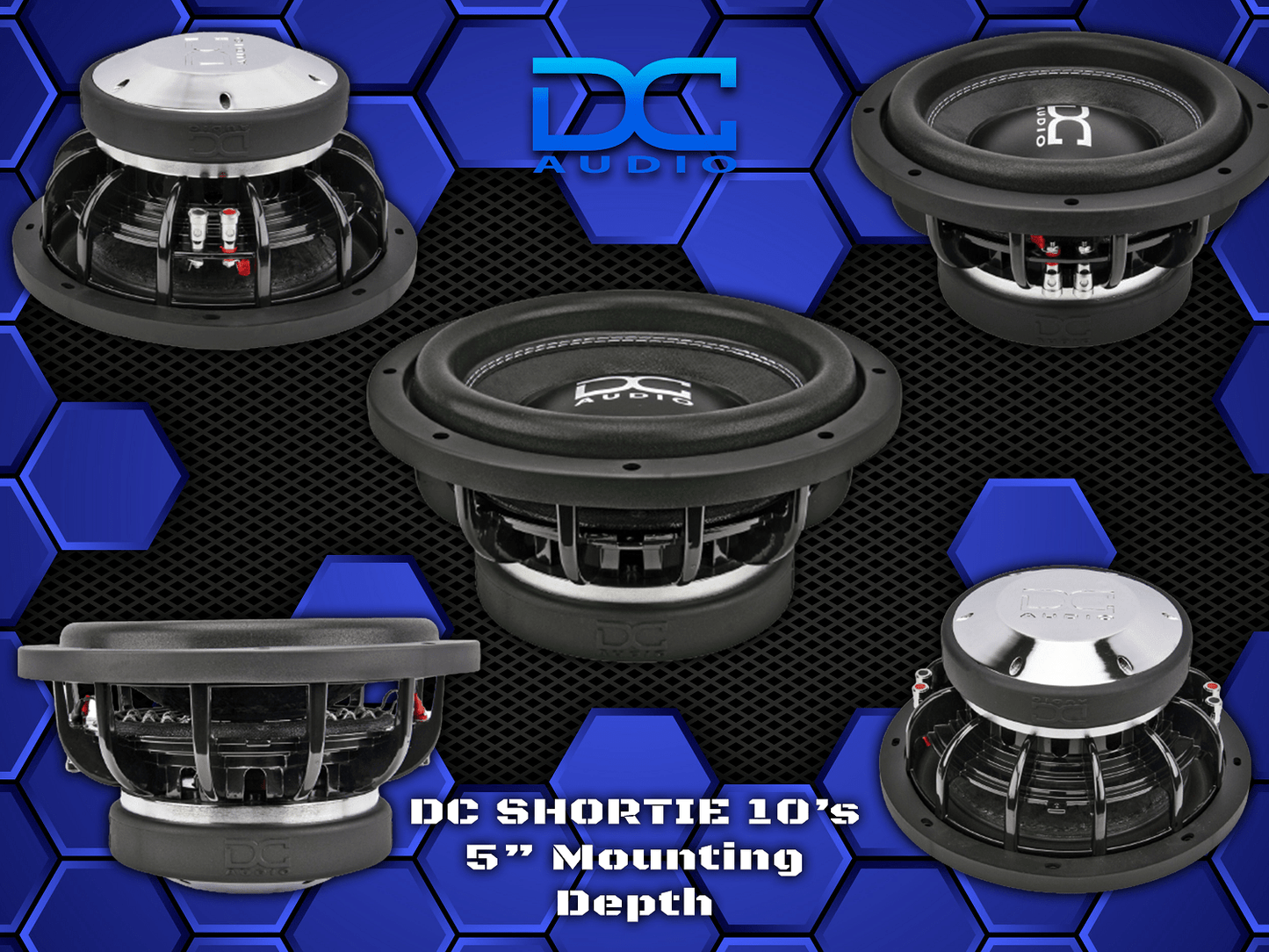 DC Audio Shortie 10" Subwoofer
Got limited Mounting Depth?? DC has a answer It starts out with a single slug FEA optimized motor. A chrome top plate and T yoke. 2.5" voice coil, Glossy Black stamped Steel Frame, Side Motor Venting, push terminals and a rating suggestion of 600w RMS/1200w peak power handling.
This sub works great in sealed or ported enclosures
Key Features
Stitched surround and paper cone assembly
Rubber Motor boot with DC Logo
 Polypropylene dust cover with DC logo
 Heavy duty interweaved tinsel lead wire sewn to the spider
 Cast Aluminum black frame
 FEA analyzed and optimized motor assembly - Fully CNC machined with   Machined side venting
 Rubber mounting gasket
 Chrome spring loaded push terminals
 2.5" voice coil
T/S Parameters
10″ 
5" Mounting depth

Outside Driver Diameter 11"

VC Diameter 2.5"

Displacement .11ft

Power Handling rms/peak  600/1200

Ohm Options D2/D4

Sd 346cm2




Vas 7.17l (.25ft3)

Cms 121.51u M/N

Mms 218.5g

Fs 45.5 Hz




Bl 15.678N/A

Re 7Ω

Le mH

Qms 4.382

Qes 0.819

Qts .690

Xmax 14mm

Ref SPL @1 watt 82DB

Suggest Sealed Box .5ft3

Suggested Ported Box 1.0ft

Sold in Singles
need help deciding?
Speak now to one of our sales consultants or support team.