PRODUCT INFORMATION
Price:
$940.00
Sale price
$840.00
Unit price
per
Sale
Sold out
View full details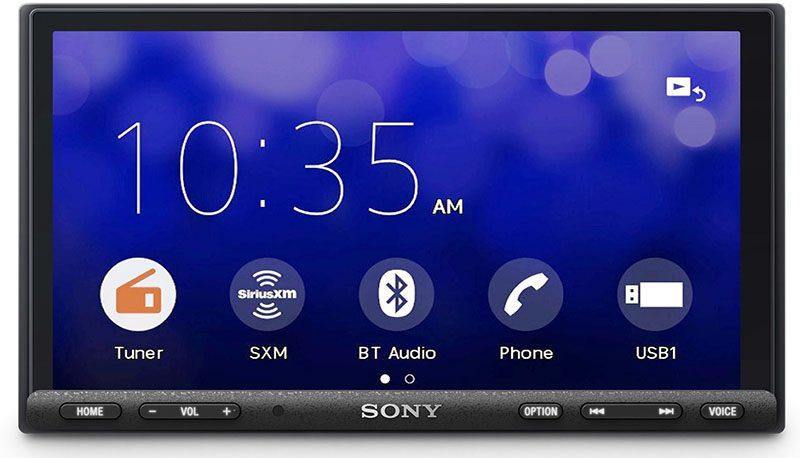 Sony AX 7000 Plug and Play Kit with custom splash cover 
The Sony XAV-AX7000 plug-and-play radio kit can take your ride to new heights. Not only does this package include the top-of-the-line Sony XAV-AX7000 radio, but we also throw in a Roadie Splash Cover!
When you first look at the XAV-AX7000, you may think it's large, but it's smaller than many double-din stereo setups out there. That's because Sony installed a single-din case behind the double-din screen. Nifty trick!
While there are tons of awesome features with the XAV-AX7000, its massive screen is one of its best. The scene measures 6.95 inches, giving the user a convenient and easy-to-use display. You can also see the bezel-less design, which is another user-friendly perk. It also gives off a sleek appearance!
When you look towards the back of the unit, you'll find all the common connections you care about, plus a few extras. The XAV-AX7000 has two 5v pre-outs for an amplifier setup, including a 5v pre-out for a subwoofer connection. Additionally, there are connections for SiriusXM Satellite Radio and a rear view camera. Included with the Sony XAV-AX7000 is a wired remote and microphone, which both can come in handy.
When it comes to installing the unit, it's straightforward. The wiring connections are easy to deal with, so you shouldn't have any problems. However, the proper installation process depends on the motorcycle you have. Contact Garage Bagger Stereo today if you need help with the install!
Kit Includes:

Sony XAV-AX7000 for Harley Davidson
As you crank on your motorcycle, the XAV-AX7000 starts working right away. In fact, its startup time is faster than previous models, excluding the Sony AX5000. The startup time for the XAV-AX7000 is measured at 17 seconds. Once the unit powers up, you'll see a warning that explains how the rider shouldn't use the device while driving. Once the message clears after several seconds, there will be tons of applications to choose from.
When looking at the display layout, many users love the simplicity. There's a bar of icons on the main display screen, allowing you to choose from your most popular applications. You can also customize it as you see fit!
Apple CarPlay®: Compatibility. Apple CarPlay® is a safer way to use your iPhone® in the car. Simply talk to Siri® or touch the receiver's display and get directions from Apple® Maps, make phone calls, listen to voicemail, send and receive texts, and listen to music all in a way that allows you to stay focused on the road.

Android Auto™: compatibility so you can bring Android™ convenience into your car. Just plug-in via USB and have easy access to everything from Google apps to Google Maps from the Touch Screen receiver. Access Android Auto®'s features by touch or voice command; make and receive phone calls, listen to your favorite music, and best of all, with less intrusion and interruption so you can drive safely.

Bluetooth®: Hands-Free Calling and Audio Streaming. Stay safe and obey local hands-free laws with built-in Bluetooth® (HFP). From hands-free calling, wireless audio streaming (A2DP) with artist, album, and song search, simple pairing, and control audio (AVRCP), Bluetooth® wireless technology has made life in the vehicle much more convenient.

Screen Size: 6.95" / Reverse Camera Input Information: Back-up Camera Ready.: Back-up camera input enables you to add a reverse (rear facing) camera that can assist with rear visibility, towing, or parking.

Feature Bullet 5: Retains Thumb Controls, may not work with CVO models. This Radio comes prewired with the thumb control interface from Volunteer Audio, ready for an easy plug and play installation
Now onto the fun stuff—sound quality! Once you crank up your favorite song on the XAV-AX7000, you'll notice the power right away. The unit includes a built-in amplifier, which helps to create the impeccable sound quality. If you enjoy loud volume, the XAV-AX7000 may be perfect for you. Even at high volumes, the sound was clear, crisp, and smooth. All kinds of music sound awesome on this unit! And you won't experience a drop in quality when hooking up a Bluetooth device.
Another cool feature of the Sony XAV-AX7000 is that you can customize your speakers. Users can adjust the speaker fade, providing dual-axis adjustments to find the perfect sound.
Aside from playing your tunes, this unit does so much more. Users really enjoy the iPhone and Android connectivity options, allowing drivers to connect via Apple Car Play or Android Auto. While this simplifies the process of playing music, it's also great for navigation. If you want a high-quality radio that does it all, you can't go wrong with the Sony XAV-AX7000.
need help deciding?
Speak now to one of our sales consultants or support team.